Pillow protectors are not a real exciting product: however, they do offer some benefit to the life and the cleanliness of your pillow.
To shop for new Down Pillows - click here
To shop for Pillow Protectors - click here
You have made an investment in your luxury linens and you may want your pillows to look as great as your bed.
Below is a photo of a new pillow – nice white & clean.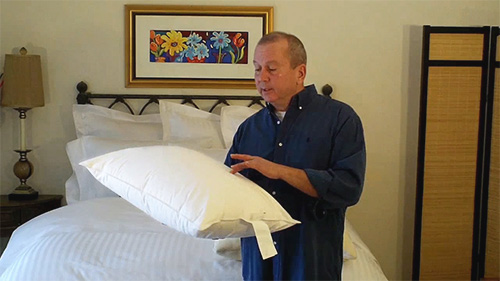 Here is an older pillow, they can become yellow and stained over time.
This is a result of body oil (and yes, drool) that finds its way through the pillowcase and on to the pillow.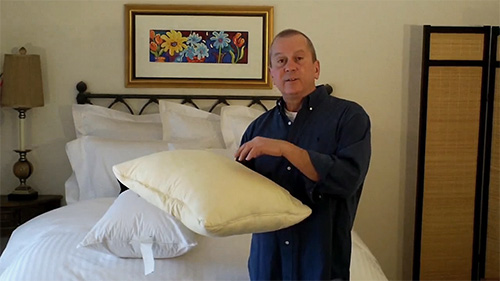 By using a pillow protector this yellowing process can be greatly reduced or eliminated.
A pillow protector adds an additional layer of protection to the sleeping pillow .
In addition, pillow protectors can reduce the infestation of dust mites in your pillow.
The reality is dust mites in bedding are inevitable.

Dust mites are nasty creatures that live off human dander.

As disgusting as this sound, dust-mites' feces can literally double the weight of a pillow in a few short years. Here is a picture of one of these buggers.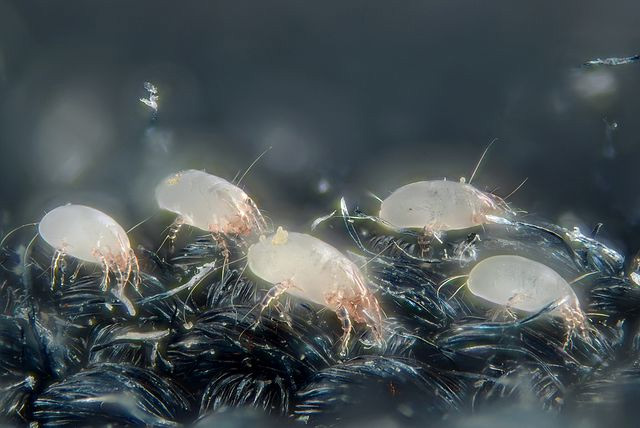 In this video we demonstrate how to launder a sleeping pillow.
Pillows can be laundered, which is not too much of a challenge; however drying the pillow will take a little more time. If your pillow is not completely dry after washing, it can mildew.

Dry-cleaning is an alternative, but, the chemical (PERT) used in the dry-cleaning process is a known carcinogenic. Down or feather pillows are natural fibers and they will absorb the PERT.

Consider that you have your face next to your pillow for 8 hours each and every night.
Pillow protectors are inexpensive. Look for ones with a zipper closure.
Every month or so, simply take it off your pillow and throw it in the wash with your bed linens.

Your pillows will stay clean and fresh. Look for 100% cotton pillow protectors.

Using a polyester fabric may cause your pillow to feel hot when you sleep and it will not absorb moisture as well (which in not good for your skin). We also sell 100% cotton pillow protectors on our site, located here.
To shop for Vero's luxury bedding, click on the below shop now button.

Use code bedding tips at checkout and get 5% off your entire purchase.
View our 150+ "How to Tips" bedding related articles & videos found here.