The bedroom is a place to rest and recover, and psychological studies point to the fact that color has a definite impact in this process.
The color of the bed linens, sheets, duvet covers & pillow shams can have a similar impact.

Certain colors and color relationships can be eye irritants, cause headaches, and wreak havoc with human vision. Other colors and color combinations are soothing.

Consequently, the appropriate use of color can maximize productivity, minimize visual fatigue, and relax the whole body. Which color is the worst offender?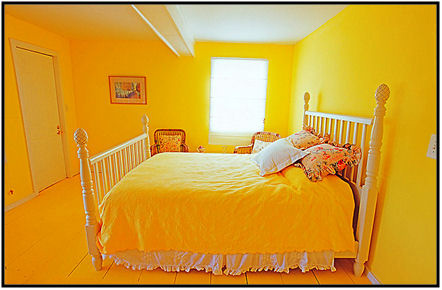 This hurts the eyes to look at, we could not image trying to sleep in this, you might save some money on electricity, as you might not have to ever turn the lights on.
Now we appreciate that there are thousands of color and pattern choices in bedding and sheets available to you and when it's time to purchase or look for new bed linens, duvets and sheets, we subscribe to the "keep it simple and classic looking" choices.
If one were to look at the leading

luxury linen

manufacturers in Europe (with the exception of France), one will find that overall the vast majority of their luxury linen collections are produced in the white, ivory and light brown/taupe color palettes.

Luxury Linens

are available in a wide array of color, but again, the vast majority of these luxury collections are white, ivory and soft-light brown.

It should be noted that approximately 90% of bed linens sold in the US are white or ivory. We think this is because these colors are never offensive to the eye, withstand the test of time and are easy to decorate with and never go out of style.

There is something to be said about an elegant all white bed – it reflects purity and goodness (pure as driven snow, doctors, nurses, brides and the like use white to project this image, even in the old Western movies the good guy's always wore white hats).
Now a pure white bed may not be for everyone, but if you this color as your duvet & sheets, accessories become a simple task.
One can transform the entire look of the bed simply by changing a few shams, decorative pillows and a throw.

The below beds are still a little neutral, but, a stronger color throw and decorative pillows on this bed changes the entire look of the bed and room.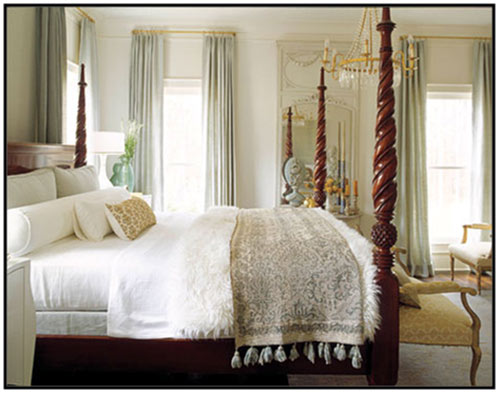 Many people will have two or more looks with their bed.
For example, they will use jewel tone accessories such as Euro shams, decorative pillows and throws for the cooler months and use pastel colors for the spring and summer.

Not only does this keep the bedroom looking interesting throughout the year but also it is an inexpensive way to change out the look of the bed.
To shop for the very finest luxury bedding, click on the below shop now button.

Use code bedding tips at checkout and get 5% off your entire purchase.
View 150+ "How to Tips" bedding related articles & videos here.