There are about (5) alternatives for decorating the top of your bed.
Because the bed is likely the single largest piece of furniture in your bedroom, you will want to ensure it compliments both the look you want to achieve and functional so that it meets your sleeping needs.
Duvet cover

A Duvet cover is basically a large pillowcase for your down comforter (which is technically called a duvet).
People seem to use the terms interchangeably.

Duvet covers are typically cotton; however duvet covers can be made from a variety of materials.

We recommend that one avoid the use of heavy, textured fabrics as they will have too much weight to them.
Here is what to look for in a Duvet cover.
Our experience has taught us that likely 90% of those that purchase luxury linens prefer a duvet cover and down comforter arrangement.

Because most people purchasing luxury linens typically have air conditioning , the temperature of their homes do not vary much from summer to winter; as a result they will use their down comforters and duvet covers year round.

Regardless, we also know that some prefer other options for the top of the bed. We wrote this article to explain a few of the other options available to you.
Quilt or quilted coverlets
Are more like a short bedspread. A quilt or quilted coverlet is smaller in length & width. Sizing of quilts and coverlets do vary in size a little from manufacturer to manufacturer.

A quilt or quilted coverlet will typically overhang the top of the mattress around 15 or so inches.

A quilted coverlet consists of (3) layers; the underside (generally a lower-cost fabric), the batting (usually polyester fiber) in the center, and the top layer which can be virtually any fabric.

Quilts and quilted coverlets can range in thicknesses from around ¼" to a few inches.
Here is how to make your bed with a coverlet.
At Vero, we sell both Coverlets & Duvet Covers for the top of the bed.
Below is a photo of our Sophia Coverlet. To shop for our coverlet, click on image.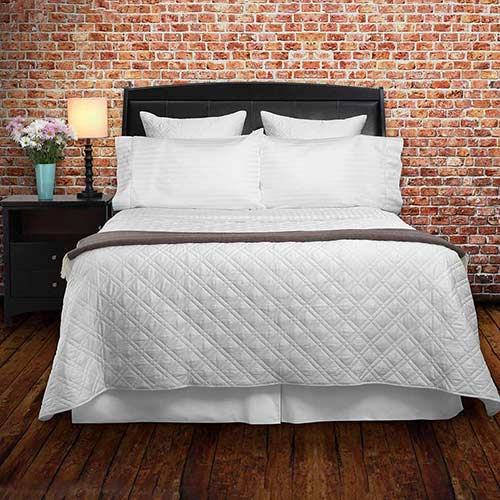 Bedspreads
Traditionally a bed spread is a quilted piece of fabric that covers the top of the bed and hangs to the floor. Bedspreads are rather obsolete these days.

Mattress makers have gotten overzealous with the thicknesses of mattresses. There simply is no standard thickness and consequently height to a bed.

One certainly can have a bedspread custom made; however, the cost can be rather high. You will be hard pressed to find a bedspread ready-made.
Matelassé (pronounced – mat-la-zay)
Is a single layer of woven fabric, usually the fabric has intricately woven designs woven into the fabric.

Matelassé are generally quite thin, however Matelassé can offer interesting texture to the top of the bed. Matelassé are often monochromatic in color.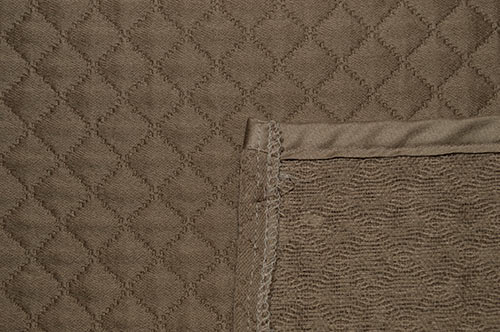 Blankets
Sometimes used for the top of the bed, but they have a few draw backs.

Many blankets have a nap. This nap is intentional in that it traps more air and hence holds in more warmth. Over time when a blanket is used as the top of the bed, the nap will begin to wear down in areas that are exposed to contact with whomever is sitting or lying on top of it.

Additionally, some blankets can stretch and may not look great as a bed cover over time.
Each of the above items can be used in conjunction with a blanket for additional warmth. Some will use their coverlet or matelassé as the top of the bed and roll the duvet cover (and comforter) at the foot of the bed during the warmer months.
Here is how to make the perfect looking bed.
Well, we hope this helps clarify things a bit, please feel free to call us with any of your bedding related questions.
To shop for Italy's finest bedding, click on the below shop now button.

Use code bedding tips at checkout & get 5% off your entire purchase.
View our 150+ "How to Tips" bedding related articles & videos found here.