There is a difference between a duvet cover and a comforter.
Occasionally, we are asked to explain the advantages of using a down comforter and duvet cover arrangement, versus other top of the bed options. We think it is safe to say that these two items are the most popular top of the bed products used.
To start we thought we would answer the question – "what is a duvet cover and what is a duvet"?
The word "duvet"- pronounced doo-vay, means

comforter

in French. A duvet is somewhat synonymous with a Down comforter. Yet, a comforter can be filled with other materials such as polyester, wool or silk.
Nonetheless, a down comforter is also a duvet.
A duvet cover is a giant pillowcase for your down comforter.
Many people (including us) often call a duvet cover a duvet, technically it is not, regardless, many of us incorrectly refer to it as such (there are larger injustices in the world).

Duvet covers will generally have a button or zipper closure on the bottom or top of the cover to prevent the actual comforter from slipping out of the cover.

We recommend a hidden button closure. Zipper closures can jam.
It is a good idea to cover your down comforter. Most comforters are made from a white cotton fabric. They will discolor when exposed to body oil, make-up and the like.
Although, down comforters are washable it is a little more involved than washing a duvet cover.

Continuous washing will detract from the comforter's life.
In the below videos, we explain what to look for in a duvet cover and a down comforter.
To shop for Vero's luxury duvet covers - click here.
To shop for Vero's luxury down comforters - click here.
Duvet covers come in a couple of construction styles, there isn't a too much variation in them, but they include:
The type and placement of the duvet cover's closure.

Types of closures can be buttons, zippers, ties, or a simple envelope closure.

A zipper closure is easy to use; however, zippers can snag and get jammed up with lose threads.

It is also more challenging to replace the entire zipper if it breaks.

An envelope closure is generally used by hotels that need to quickly and frequently change the cover. It is a little more challenging if you are using the same duvet every night, as the comforter can slipping out after extended use.

We prefer a hidden button closure as shown belo

w.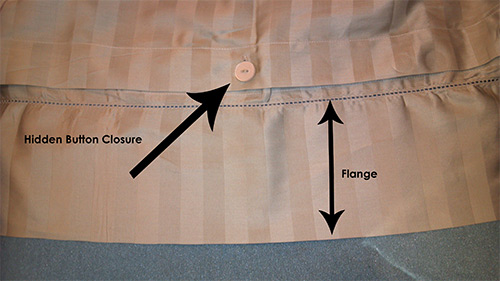 Some manufacturers put the closure at the top of the duvet cover, which seems unusual as you will have the (buttons or zipper) in your face all night. It is better to have the closure at the bottom of duvet cover.
The style/construction of the duvet cover

There are two types of construction styles – either a simple sack or with duvet cover made with a flange.

The simple sack is just that – a sack with closure at the foot.

The flanged construction typically has a decorative flange on 3 sides of the duvet cover. The flanged cover provides addition width and length to the duvet cover, which provides extra coverage to today's super thick mattresses.

The flange also gives the duvet cover a more finished/tailored look.

The type of material used in their construction.

Literally any fabric can be used as a cover. We recommend a sheet-weight fabric that is washable (cotton).

We see duvet covers made from upholstery-grade fabrics as well. We don't recommend using this type of fabric the duvet cover can become very heavy.

This much weight is uncomfortable to sleep under as well the heavy weight of the fabric, compress's some of the air out of the down comforter, reducing its insulating value.

Some think a down comforter is too hot for summer months. Most homes in the US are air-conditioned and the temperature in the homes does not vary that much between the seasons. So, they can be used year-round.
Here are the advantages of a duvet cover compared to a regular one piece construction comforter (with the filling contain as part of the comforter).
A duvet cover can be easily removed from the down comforter.

Duvet covers when filled with a down comforter are very light and cozy to sleep under.

Down offers a wonder weight to warmth ratio.

A cotton duvet cover is washable and is easier to wash than a thick comforter.

A Down comforter over time will need to be laundered, but because it is protected by the duvet cover, it should not be required that often.
See/read more bedding tips here!
To shop for luxury Italian bed linens, click on the below shop button.

Use the code bedding tips at checkout & get 5% off your entire purchase.
View our 150+ bedding related articles on our "How to Tips" page found here.