To shop for Italy's finest luxury bedding, click on the below shop now button.

Use code bedding tips at checkout and get 5% off your entire purchase.
There are several choices available for the top of the bed, but duvet covers are likely the most popular.
Here is what you need to know when looking for a new one:
Duvet covers should be used to cover your down comforter.
They are available in many different fabrics from cotton, linen, and silks to synthetics. Some materials are better choices than others.
Duvet covers provides two benefits:
1. They protect your down comforter from getting soiled.
Down comforter's shells are generally white cotton. Over time, they become stained, as they absorb makeup, body oil and other things that they come in contact with.

Down comforters are washable. However, continuous washing and drying

degrades the down comforter's life

. This is a result of the friction created by the down clusters abrading against themselves during the washing and drying cycles.

Washing a duvet cover is far easier than washing a down comforter.

Many duvet covers and most down comforters are washable.
2. They provide a nice decorative top to the bed:
A duvet cover is often the single largest visible item in a bedroom. Using one is a nice way to bring some color and decoration to the room.

Unlike a bedspread, that is a decorative piece, taken off the bed at night, duvet/comforters are both decorative and functional.

Down comforters offer an unmatched weight to warmth ratio and are comfortable to sleep under.

For the most part, bedspreads are not readily available. This is due to the variations that exists in mattress thicknesses and bed heights. There is no standard sizing for one.
There are a couple of constructions types used in duvet covers. Here is our recommendation on what to "look for".
Fabrics that are washable and light weight:
Having a fabric that needs to be dry-cleaned is not the end of the world, but having a washable cotton fabric, makes the cleaning process quick and inexpensive.

Silk fabrics look and feel great; however, silks are costly, they snag easily and typically need to be dry-cleaned.

The weight of the fabric should also be considered. Many people like the texture that is found in some fabrics (specifically interior designers). But with texture, comes weight.

Unquestionably, texture can add interest to the look of the duvet cover, but upholstery grade fabrics used as a duvet cover can result in it weighing as much as 20 pounds. Whereas, a sheet-weight cotton fabric typically weighs only a few pounds.

Most people do not like having a lot of weight on their chest, back or legs when sleeping. In addition, the weight of these heavy fabrics compresses all of the air out of the down comforter (air is what traps body heat and results in warmth).

Look for sheet weight fabrics in your duvet cover. The best attribute of a down comforter is warmth with little weight.

Cotton (sheet weight) fabrics are washable and durable.
Size of the duvet cover:
Because of today's popular super-thick mattresses, consider a duvet that has flanges on the sides and foot vs. a simple sack construction.

A duvet cover with flanges on 3 sides (sides & foot) is a better constructions style, as it will give you extra coverage. For example, a 4" flange provides an additional 8" of extra coverage to the sides of your mattress and 4" to the length.
The closure of the duvet:
Look for hidden button closures (not zippers, as they can jam). A hidden button closure (found on the underside of the duvet) provides a nicer, clean, finished look.

The buttons should always go at the foot of the bed (unless there is some decorative reason for placement elsewhere on the duvet).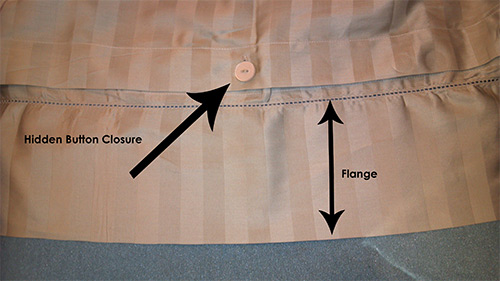 To shop for Italy's finest luxury bedding, click on the below shop button.

Use code bedding tips at checkout & get 5% off your entire purchase.
View 150+ bedding related articles on our "How to Tips" page here.