Yep, that's right - remove wrinkles in your bed sheets without an iron...
To shop for the finest bed sheets, luxury bedding click on the below shop button.

Use code bedding tips at checkout & get 5% off your entire purchase.
Few things feel better than jumping into a clean and freshly made bed, especially when the bed sheets are 100% cotton. But as we all know; cotton bed sheets can wrinkle.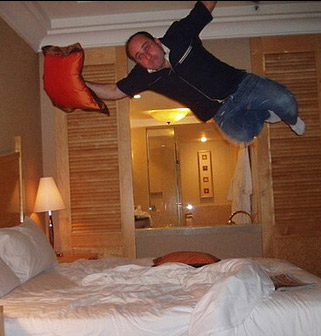 Cotton poly sheets wrinkle less, but they don't feel as nice either.

Sheets don't need to be ironed, but, they will look and even feel nicer without wrinkles.
Over time you will find your sheets will have fewer wrinkles than they did when new. This is because the fibers become more relaxed with washing's.
We know most people do not like to iron.
So here are a few options:
Do nothing.

Iron them, or better yet, have someone else iron them.

Send them out to be laundered and pressed – do not dry clean.

Use our little trick to easily get the wrinkles out

.
There are a few things you can do to minimize wrinkles;
Don't overload the washer or dryer, as this will increase the propensity to for them to wrinkle.

Only put one set of sheets in both the washer and dryer.

Don't let the sheets sit in the dryer after they are dry and don't over dry them.
On to the wrinkles – all you need is a spray bottle of water!!!
Fragrance waters are great as they add a nice aroma to your bed linens, regular tap water will also work.

We also sell a wonderful linen spray and detergent on our site found here.
Stuff your pillowcase, then hold it with one hand from the cuff, give it a light spritz on both sides.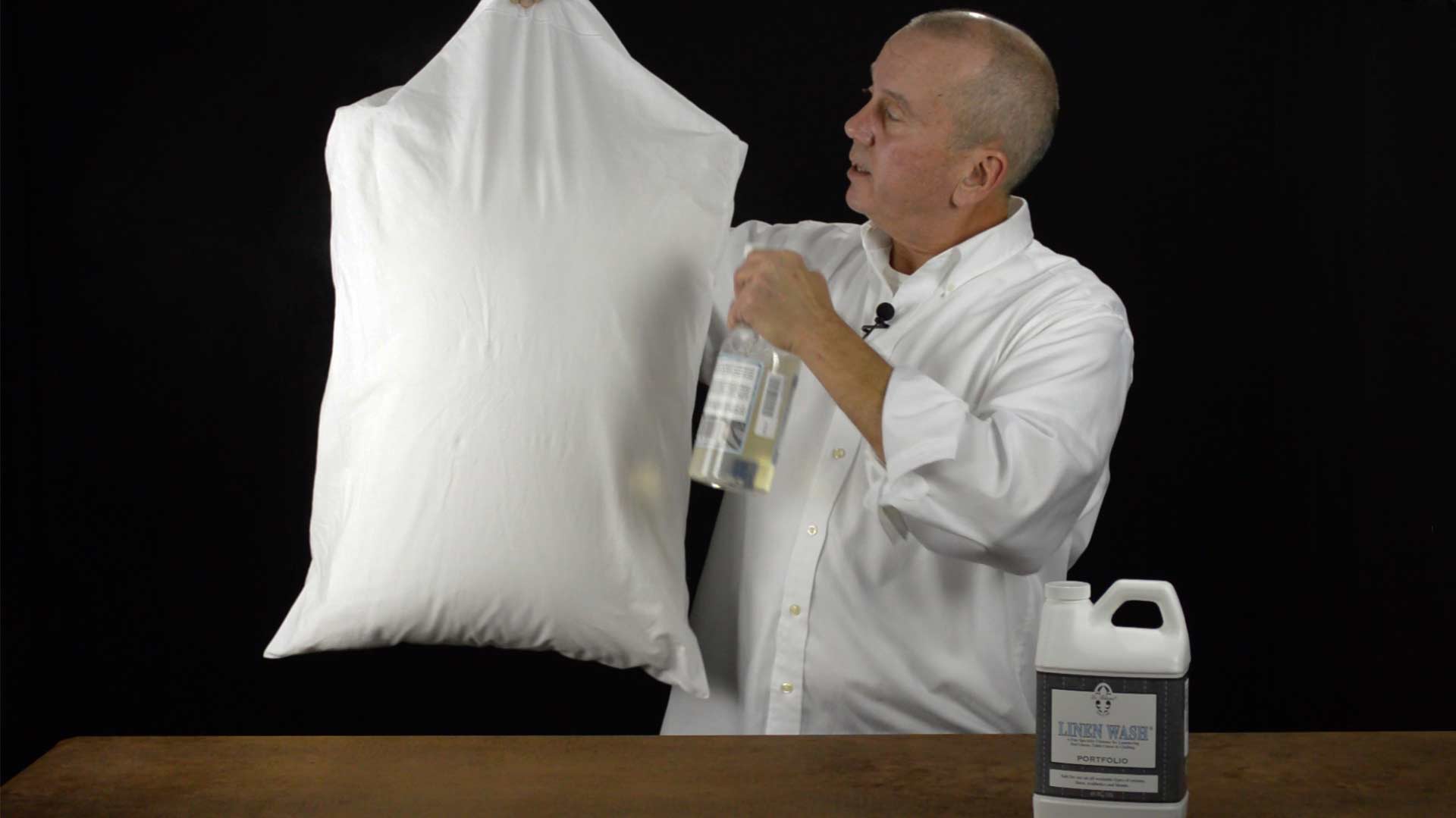 Then give it a little shake (up and down) while still holding it from the cuff, the wrinkles will fall right out.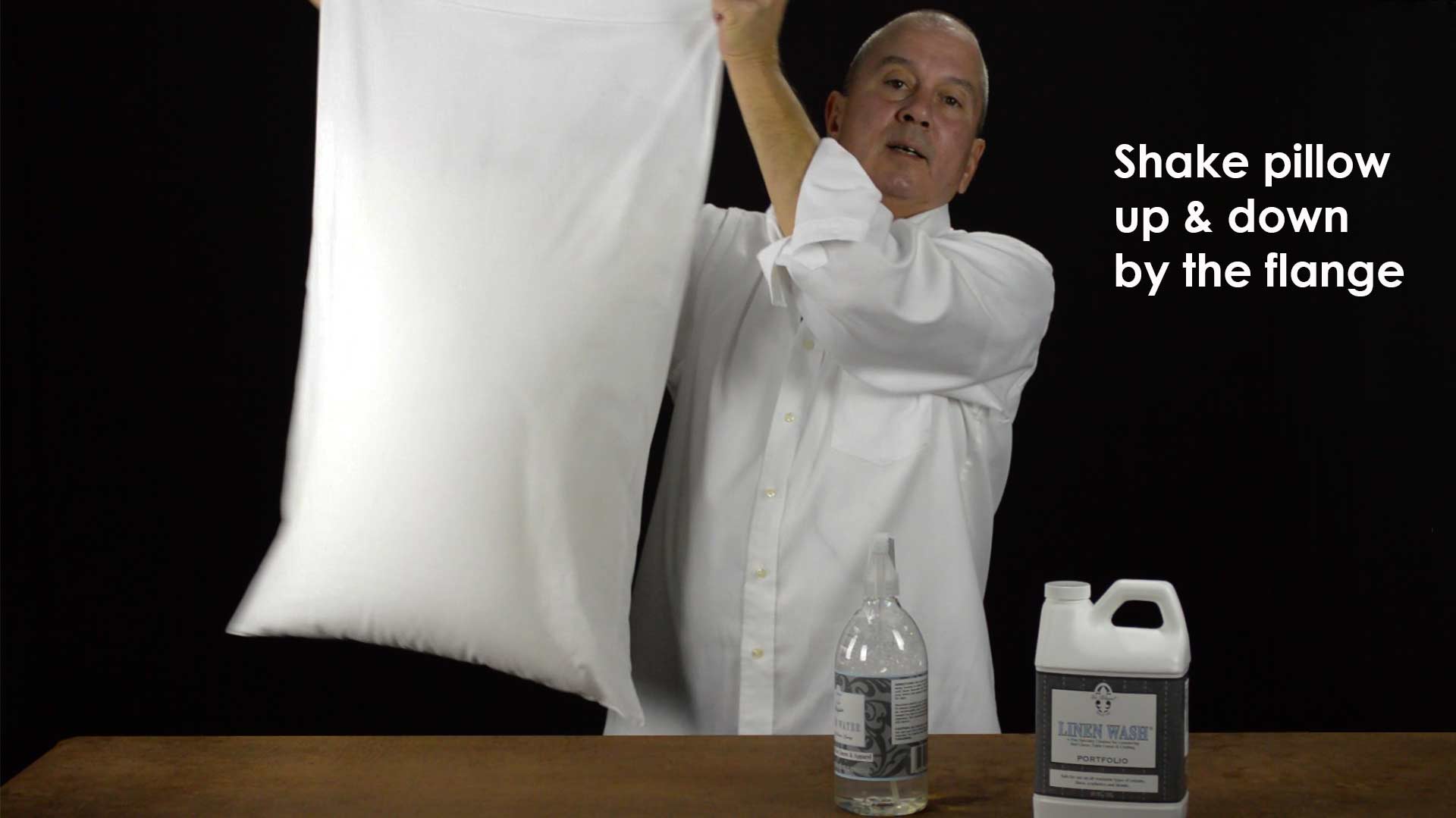 The key to this tip is to insure there is a bit tension on the fabric.
Don't worry if your linens are a little damp, they will dry after a few minutes.
Put on your fitted sheet:
Your fitted sheets are likely elasticized, so they are already under a little tension, so, nothing is required except giving them a light spritz.
On to the flat sheet:
As shown in the below photo, go to one of the top corners of the sheet.

Grab the top corner of the sheet, pull it somewhat taunt, applying a little tension and give it a spritz.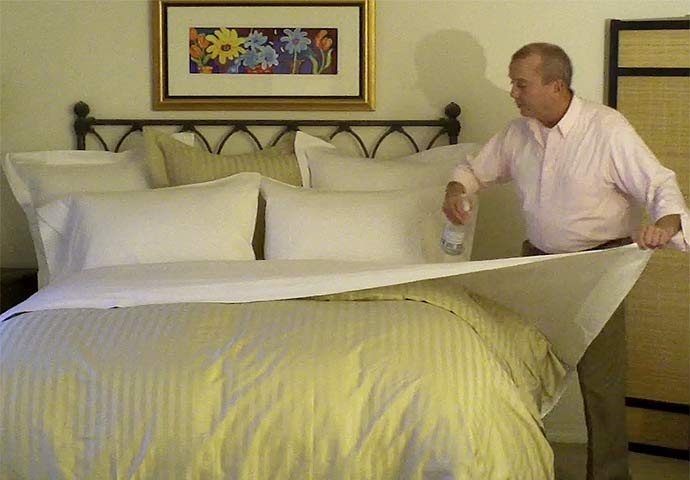 Repeat this step to the other side of the bed.
The wrinkles should fall right out and your sheets will look as if they were just ironed.
To care for your luxury sheets – watch our "How to launder linens" video found here.
To buy the finest Italian bed linens & luxury bedding, click the below shop button.

Use code bedding tips at check out & get 5% off your entire purchase.
View 150+ bedding related videos & articles on our "Bedding tips" page here.