To shop for Vero's luxury Coverlets - Shop now button

For those of you at work that don't want to let everyone know you're watching a video, here is the written version.
What is a

coverlet

, you might ask? It is a short bedspread.
Many people have air-conditioned homes so the room temperature of the house doesn't vary too much between summer and winter, so keeping your duvet on the bed year round works just fine.
As well, some people like the look of using a coverlet and having the

down comforter

&

duvet cover

rolled at the foot of the bed, this works fine as well.

For those that do not use the duvet cover and down comforter in the summer, here you go.
Now the reason that coverlets are used rather than a bed spread (a cover that hangs to the floor) is that our friends, the mattress makers, have become a little overzealous with the thicknesses of mattresses.
You will find mattresses as thin as 9" and as thick as 24" – so it is impossible for bedding manufacturers to accommodate all of the variations that exist. Therefore, coverlets are the answer.

You can have a bedspread that goes to the floor made to fit your exact mattress size, but hold on to your wallet, you are likely going to spend over $1,500 for anything that looks good.

Bedspreads were often more of a decorative piece and not that functional. A coverlet can be used as your blanket and top of the bed cover.
Back to coverlets!
They come in a few different construction styles:
Quilted – which consists of (3) layers, the underside, the batting (middle) and a top layer. These pieces are then quilted together with varying stitch patterns, giving it a more decorative finish.

Matelassé – (pronounced MAT-LA-ZAE) is a single layer of fabric, that is generally a little thinner that it's quilted cousin.
When you purchase your coverlet, it may have some wrinkles in it, so the quick fix is put it on the bed and run an iron over it. If you're lucky enough to have a steamer – this is a perfect way to get the wrinkles out.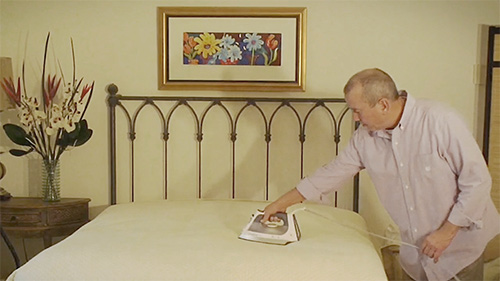 After you have placed your comforter on the bed, pull the edge that will be at the head of the bed all the way to the headboard. Then pull it back about 1/3 of the way down.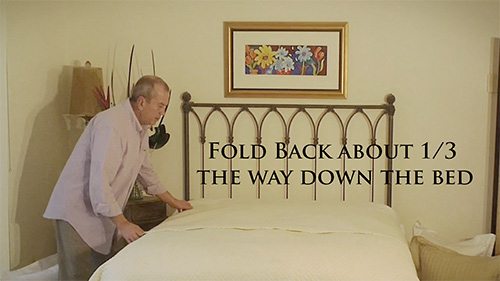 Do the same with your flat sheet (if you have a decorative trim on your flat sheet, insure that you have placed it on the bed up side down so when it is folded back the embellishments can show.
Now add your pillow shams, if you don't have Euro shams, consider getting them as they add a nice, height and layered look to the bed.
Now add your sleeping pillows – stand them on edge.
If you want to put your duvet cover at the foot of the bed, simply place your duvet on the bed and fold it up, or roll it. If you do not want to sleep with the duvet at night you can simply remove it and place it on a bench or chair that you might have in the room.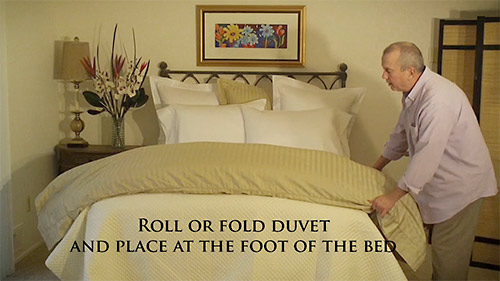 To shop for the world's finest luxury bedding, click on the below shop now button.

Use code bedding tips at checkout & get 5% off your entire purchase.
View 150+ "How to Tips" bedding related articles & videos found here.