To shop for Italy's finest luxury sheets & bedding, click on the below shop button.

Use code bedding tips at check out & get 5% off your entire purchase.
View 150+ bedding related articles & videos here.
100% Cotton bed linens can wrinkle.
When removing your linens and sheets from the bed, don't roll them up in a ball and stuff the ball in the washer.
Bed Sheets will get even more twisted up during the agitation wash cycle, bunched up sheets will have more wrinkles, additionally, they will not get as clean.

When your sheets are knotted, the fibers will also be subject to more strain during the wash and dry cycle.
Only put one set of

sheets

in the wash machine at a time.

When it comes to detergents – avoid harsh detergents such as Tide and Cheer.

Most of the large, recognized brands contain what the manufacturers call brighteners, these are generally bleach derivatives.

Don't use bleach.

Bleach can damage the cotton fibers and prematurely fade colored linens.

Instead use a mild detergent such as Dreft or Ivory or better yet use Le Blanc linen wash.
We sell LeBlanc linen wash here. LeBlanc is an excellent detergent, specifically formulated for cotton products.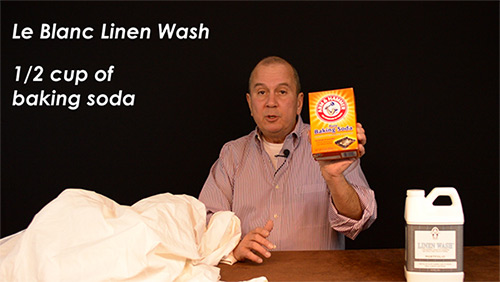 Wash your bed sheets on a gentle wash cycle with cold or warm water.
Your bed sheets can also get twisted in the wash cycle so, untangle them before putting them in the drier.

In the dry cycle, use a low to medium heat setting.

Again, only one set of sheets in dryer.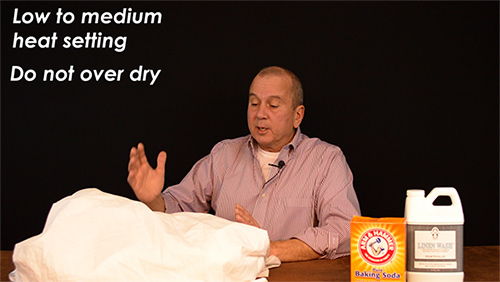 Don't over dry bed linens, high heat can damage the cotton fibers.

Remove the linens as soon as the dry cycle is complete, leaving them set in the drier will result in more wrinkles and expose the sheet to additional unnecessary heat.

Take your sheets out of the dryer when they are slightly damp to the touch.

Hand press and fold them to minimize wrinkles or put them back on the bed.

This will eliminate 90% of any wrinkle that you may have picked up.

Taking these few extra steps will not only mitigate wrinkles but also add additional life to your luxury linens.
If your bed sheet pick up a musty order, consider adding a ½ cup of baking soda to the wash cycle.
Baking soda will keep them brighter, cleaner & fresher.
Hey, if you like bed linens without wrinkles and don't like to iron, check out our video on how to easily get wrinkles out of sheets without an iron, found here.
Still have questions? Give us a call or send us an email, we are happy to assist.
To shop for Vero Linens, luxury bedding click on the below shop button.

Use code – bedding tips – at checkout & get 5% off your purchase.
View 150+ bedding related articles here.