To shop for the very finest Italian luxury bedding - click the shop now button.

Use the code bedding tips at checkout to get 5% off your entire purchase.
Forgive the yellow cast photos, they are very old.
Have you spent a fortune on your luxury bed linens and sheets and your bed still looks lousy? Or, do you want to understand what you need to have an inviting bed that looks as good as it feels.
Here is what you need to do.
Step one; put your fitted sheet on.
Step two; Place your flat sheet on the bed upside down, so that when you pull it back any decorative features you have on the sheet are visible.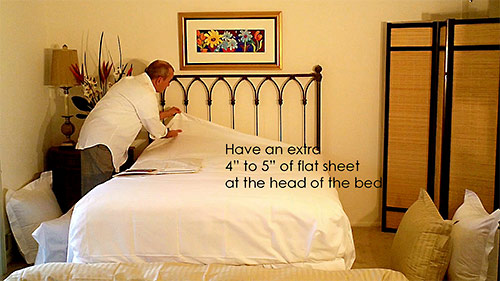 Step three; Place your

Duvet cover and

Down comforter all the way up to the headboard.
Step four;

Fold back the duvet cover and flat sheet about 1/3 of the way back

.

Adjust them from both sides of the bed.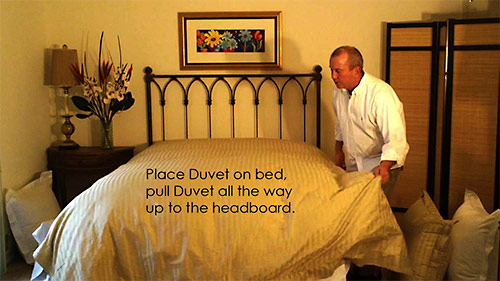 Step five; Place your

Euro Shams –

don't pick them up from the top

edge

, rather pick them up from the bottom edge. Give them a shake (while upside down), driving the Pillow insert, to what will be, the top of the sham. This will eliminate any gap between the sham cover and the insert when set in place.

Any loose fabric at the top will result in a floppy flange – watch the above video if what we have written, is not clear.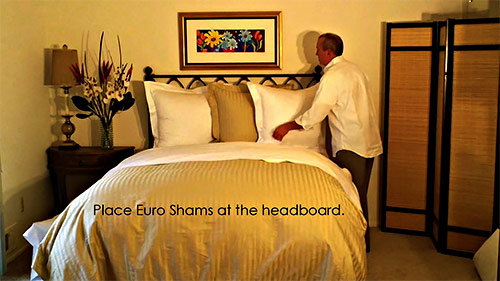 If you don't have Euro Shams, consider getting some, they add a great height to the bed, a nice layer and they look great.

Euro shams are functional, you can lean against them for back support and comfort when you read or watch TV in bed.

Use 2 or 3

Euro Shams on a Queen bed or 3 and 4 on a King bed.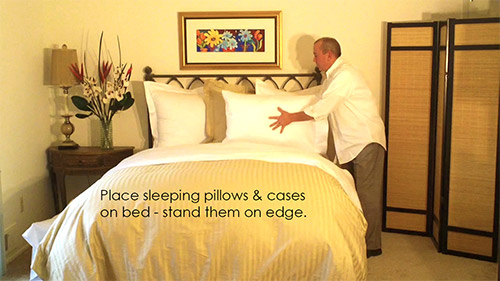 Step six; put your sleeping pillows in place, on edge straight up and down.

If you want a little more decoration, consider getting a few decorative pillows or some boudoir shams (12" x 16") to place in front of the sleeping pillows.
Voila! Bed Perfect.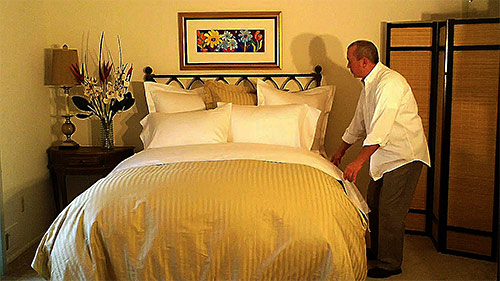 Consider swapping out your Euro Shams and decorative pillows seasonally to obtain an entirely different look for your bed.
Use jewel tones in the fall and winter and pastels in the spring and summer.

This is a very inexpensive way to get an entirely new look to your bed and bedroom.
We hope this helps, and as always, please feel free to email or call us with any of your bedding - relates questions.
The best sheets in the World are made in Italy & at Vero we make some of Italy's finest.
To shop for true Italian bed linens, click on the below shop button.

Use the code bedding tips at checkout & get 5% off your entire purchase.
View our 150+ bedding related articles on our "How to Tips" page found here.