Unfortunately, down comforters do wear out.
A well-made down comforter should last about 10 years +/-. However, the way you treat your comforter directly impacts its life.
If you are a restless sleeper, for example, you will find that the life of your down comforter will be less than say a person that sleeps very still.
Nonetheless, there are things you can do to extend the life of your comforter.
The single largest thing you can to get more life from it is to avoid laying on top of it.

Your body weight crushes the delicate down clusters, causing the fiber to break down to dust.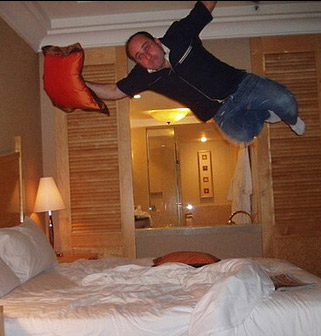 The first place you will notice wear on your Down comforters is in the area that is directly on top of your shoulders (which is in the upper third of the comforter).

This is a result of the friction created inside the compartments of the comforter caused by the down clusters rubbing against themselves each time you toss and turn.
If you notice this occurring, rotate the down comforter inside the duvet cover 180° so the area once over your shoulders is now at your feet.
Always insure the orientation of the comforter is correct. Most comforters are rectangles.

Queen size comforters are often longer than they are wide.

The opposite is true with king size comforters, they are always wider then they are long. If the comforter is in sideways you will have extra unfilled fabric in your duvet cover.

Consider rotating your comforter at least once a year, preferably twice or when you clean your duvet cover.

This will insure even wear in the area that covers your body.

This is also an excellent time to determine if it is time to replace yours.
In the below videos, we demonstrate how to launder a down comforter.
If you decide it is time to replace your down comforter, this video explains what you might want to consider in the selection of a new one.
To shop for the finest luxury bedding, click on the below shop button.

Use the code bedding tips at checkout & get 5% off your entire purchase.
View 150+ bedding related articles on our "How to Tips" page here.