Use code bedding tips at checkout & get 5% off your entire purchase.
Below are some of the elements you will need to create that perfect bed you just want to jump into at the end of the day.
Bed skirt (dust - ruffle);
Dust-ruffles add some decoration to the bed and do just the name implies - slow down the accumulation of dust from settling under you bed, they also do a good job of hiding whatever else you might have under the bed.
To no one's surprise, mattresses have gotten thicker and thicker over the years. The result, as it relates to dust-ruffles, is; the old standard size drops of 14" & 16", may not fit properly (you want your dust ruffle to drop to the floor).

The good news is, today, many dust-ruffles are made in 3 separate panels, that are pinned to the box spring.

The most common dust-ruffles constructions styles are; straight paneled, gathered & pleated.

Some dust ruffles are made in two layers (a shear over lay sewn over the top of another fabric), providing a softer elegant look.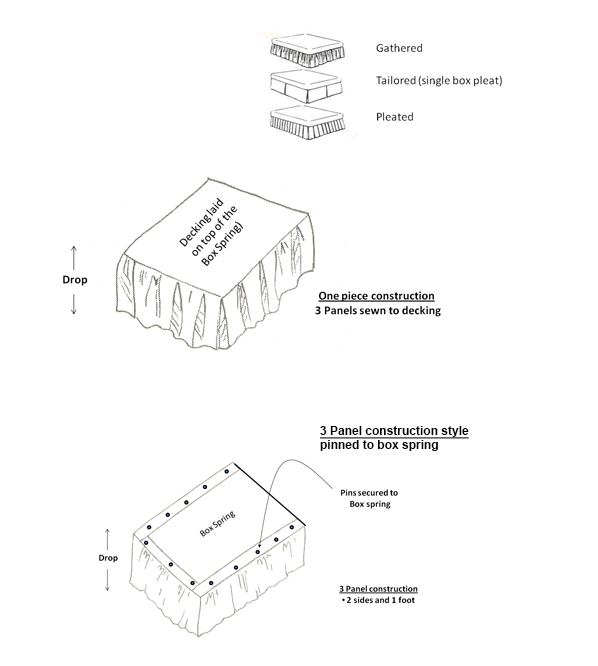 Look for a quilted mattress pad.
Mattress pads provide a soft layer of fabric over the top of your mattress, which sometimes is a course material, they also provide a layer of protection from other stuff that gets on your mattress.

Even if you're super careful or clean in bed, body oil can leach through your fitted sheet and stain your mattress.

Mattress pads are available in cotton, cotton/poly, wool and Tencil (a soft wood fiber that is very soft and absorbent).

Some people use foam pads, however, foam doesn't breathe well, so a foam topper can be hot.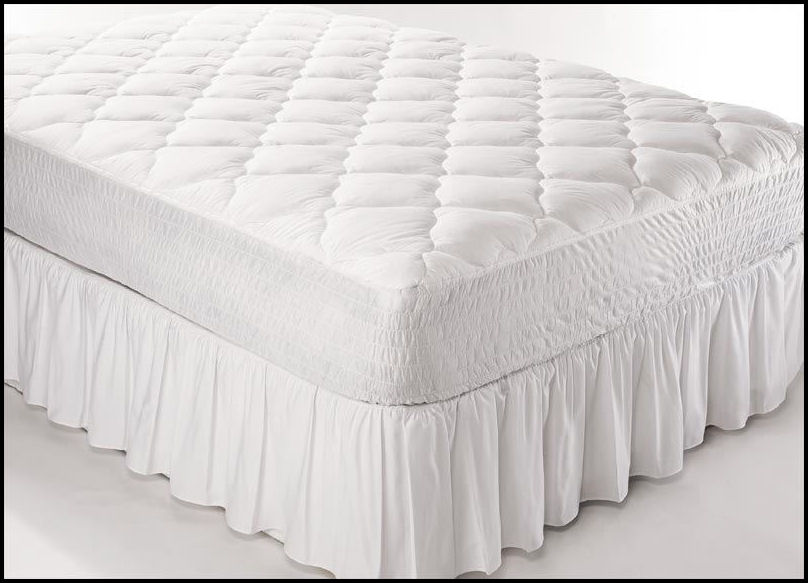 Fitted sheet - (a.k.a. a contour sheet);
Most fitted sheets are made with an elastic edge, helping them stay in place.
Because of the thick mattresses sold today, check the depth of the pocket, when you endeavor to buy a new one to ensure it will fit.

If you have a thin mattress, and your fitted sheet has a deep pocket, no worry, just tuck the extra fabric under the mattress.

It is better to have more fabric than not enough, as the sheet may slip off at the corners. If a fitted sheet is too tight you're putting unnecessary strain on the fabric, which will result in premature wear.
The flat sheet goes on next.
Some do not care to use a flat sheet; however, this also means whatever is on top of the bed, i.e. a blanket or duvet cover will require frequent cleaning.

Flat sheets easier to clean that the aforementioned items.

If you have decorative details on your flat sheet (embroidery, hem-stitching etc., place the flat sheet upside down on your bed, so when you fold it back, the decorative detail shows.
These can be Euro Shams 26" x 26", placed at the headboard (2 or 3 on a queen, 3 or 4 on a king) or a standard sham 20" x 26" or a king sham 20" x 26".
Consider feather inserts for fillers, as down is expensive and not necessary for decorative pillows.

Poly inserts do not fill the sham out as nice as feather.
Unless you have allergies to down, consider down or a down/feather combination.
Down or down/feather are the most popular fillings for sleeping pillows.

Use 2 or 4 standard size (20" x 26") on a queen or full size bed, 2 or 4 king size (20" x 36") on a king bed.

Some people do not care for king pillows, as they are quite long and difficult to maneuver when sleeping. If this is true for you, consider 3 or 6 standard size pillows, they will fit across a king bed perfectly.
We've all seen those yucky yellow pillows, loaded up with body oil.
Pillow protector add an extra layer of protections and will keep your pillows cleaner.

They zip off and are easily washed.
Hopefully, this doesn't require explanation.
Now when it comes to the top of the bed there are a few decisions to be made.
Bedspreads - for the most part, are not made and sold, unless you have one custom made.

This is due to the super thick mattresses (there is no standard height to a bed).

Bed spreads are not as in fashion as they once were.
Available in down, wool, cotton or polyester. Our down blankets can be purchased here.
Most blankets have a nap, you will want to cover the blanket, so you don't see hand prints and impressions.

This can be done with a Matelassé or quilted coverlet (short bedspread).
Duvet covers are essentially a large pillowcase intended to cover the duvet (down comforter or the like).
When purchasing a duvet cover, look for one made from a sheet weight fabric. Heavy textured fabrics are just that – heavy. Most people don't like a lot of weight on top of them.
Down comforters, are likely the most popular top of the bed choice, as they offer a wonderful weight to warmth ratio.
For those that have allergies, there are silk and synthetic fills available,

If you don't have allergies, consider down, it is a superior product.
In the below video, we show how to tell when it's time to replace your down comforter.
In this video, we explain what to look for when purchasing a new down comforter.
Decorative pillows;
Accent pillows are a nice way to bring a little texture, interest and color to the top of the bed.
Dec. pillows are available in a variety of sizes. The more popular ones are; a boudoir (12" x 16") or other square pillows 16" x 16" or 18" x 18".
Decorative throws;
Throws are a great way to bring more color and interest to the bed, additionally, they are great for snuggling under while reading or watching TV.
Throws are made in several materials, cotton, wool cashmere and synthetic fabrics.

Most throws are approximately 50" x 70" in size.

A throw can be placed across the entire width of the bed, tossed at the foot or put on a chair in the room.

A throw can also be useful when on sleeper needs a bit more warmth than the other.
To shop for the finest luxury bedding click on the below shop button.

Use code bedding tips at checkout & get 5% off your entire purchase.
View our 150+ bedding related articles on our "How to Tips" page here.