Sleeping pillows can get disgustingly dirty as a result of exposure to body oil, drool, dust mites and other things they come in contact with.
Some recommend replacing them every year.
If you're not ready to part with your pillow, here is what to do.
In our first video, we explain how to clean your down pillow (it has a couple of areas with a small amount of static, our apologies, this was due to interference between the laundry equipment and the wireless microphone). In the second video we explain when it is time to pitch them. If you prefer to read vs. watch, scroll down the page.
If it is time to replace your sleeping pillows - click the shop now to purchase Vero's luxury sleeping pillows.

Use code bedding tips at checkout & get 5% off your entire purchase.
You could have them dry-cleaner, but we don't recommend it.
Down and cotton are natural fibers, they will absorb the PERC chemical used in the dry-cleaning process. PERC is believed to be a carcinogenic, and you are breathing in that chemical residue every night.
We recommend laundering your pillows at a Laundromat as the dryer drums are larger, allowing the pillows to tumble better.
If you are washing your sleeping pillows in a top load washer, consider washing 2 pillows at a time, as this will balance the load and mitigate the tilt or out of balance that may occur during the spin cycle.

We prefer to use a high-efficiency front load washer, as it cleans better than a top-load washer and is easier on the pillow.
Washing:
Put your pillows in washer, add $$ and detergent.
This next step is not recommended by any pillow manufacturer, as it is a little hard on the down and shell of a sleeping pillow. Nonetheless, here is what we do.

Virtually all bedding, including pillows, get dust mites, so, we add a ¼ cup of bleach in the wash to kill those little buggers. Here is the question to ask, would you rather lose a little bit of life out of your pillow or sleep with a few thousand dust mites next to your face?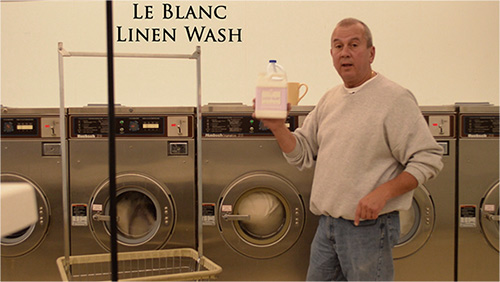 Let the washer do its magic, grab a large glass of wine (in a cup of course) and get to know the some of the regulars.
High speed extractor:
When the washer cycle is complete, take your pillow(s) over to the high-speed extractor. This centrifuge will take some additional water out of them, speeding up the drying process.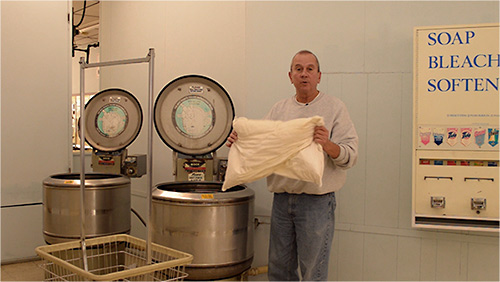 Drying:
Off to the dryer. Place your pillow(s) in the dryer, set the heat to medium, pour yourself another glass of wine and resume your conversation with your new-found friends.
After about 15 minutes, pull your pillows out of the dryer.
You will notice the outside of the pillow has become dry. The core however, will likely still be damp.

Re-orient the down inside the pillow by fluffing and punching the pillow up. This should re-orientate the down from the center to the outside surface.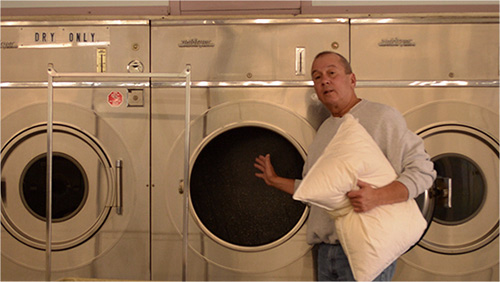 Repeat this step every 5 to 10 minutes, until all of the down is dry.
When you think the pillow(s) is dry – consider giving them another 5 minutes in the drier. Just be sure not to scorch the cotton shell.

If you get home and discover the pillows are still damp, just take them outside and place them on a chair, suspend them from your porch in the sun or dry one at a time in your dryer.

Placing them in the sun may take a full day to fully dry, however, you want them totally dry –

otherwise they may rot or mildew

.
If you are not using pillow protectors, consider getting some, they will help keep your pillows cleaner.
We have prepared a video on how to clean a Down Comforter, click here to be re-directed to that video.
To shop for the very finest luxury bedding click on the below shop button.

Use code bedding tips at checkout & get 5% off your entire purchase.
View our 150+ bedding related articles on our "How to Tips" page here.