There are several factors that determine how frequently you should change your bed linens:
Do you have oily skin?

Do you allow your pets in your bed?

Do you eat in bed?

Have you converted your bed to an office or do you read or watch TV in bed?

Are you allergic to dust mites? (Every bed will get them - you will want to wash your sheets more frequently, if you are allergic to them).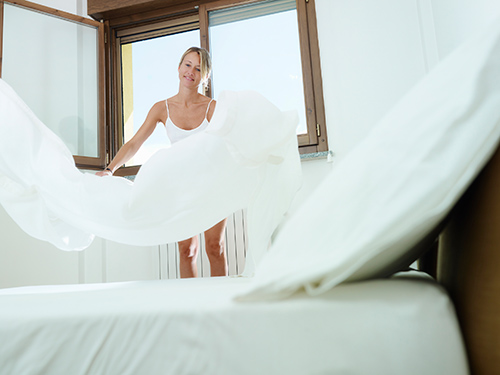 Bedding can get incredibly dirty, it often contains bacteria, dead skin and yes, sometimes feces.
As a result, Bed sheets should be laundered:
At least once a week in the winter months.

Every 4 to 5 days in the summer months, as people have a tendency to sweat more in warmer months and excrete more body oil.

If you're not inclined to wash them more frequently in the warmer months consider changing the pillowcases every 4 to 5 days.

If your allergic to dust mites, you will want to wash your bedding more frequently.
For additional information on how to launder your bed linens, watch our video post or read our article found here.
Have bedding related questions? Simply send us an email or give us a call.
To shop for the finest Italian luxury linens & luxury bedding click on the below shop button.

Use code bedding tips at checkout & get 5% off your entire purchase.
View our 150+ articles & videos on our "How to Tips" page here.