Use code bedding tips at checkout & get 5% off your entire purchase.
Sleeping Pillow are filled with many different materials. They include; spun polyester, buckwheat, latex, different types of foam among dozens of other materials.
Regardless, feather, down or combinations of down and feather are the most popular sleeping pillows.
There is a difference between feather and down.

Feather has a noticeable quill has a more defined structure and is denser.

Down does have a very small quill that is hardly noticeable. Its structure is very undefined.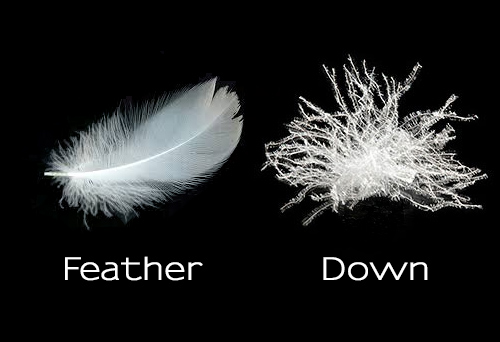 Polyester -filled pillows are popular as well. They typically don't cost as much as a feather or down pillow. Most poly sleeping pillows are made or filled with thin threads of polyester. They are less costly than a feather or down pillow. One of the problems with a poly pillow is the threads bunch/knot up over time, making it lumpy.

An all down pillow is generally the softest fill.

Because a feather has significantly more structure and weight than down, it is generally firmer – this of course is dependent on the number of ounces found in each fill type.

There are also different ratios of feather to down that can provide a middle ground of firmness between a feather and down sleeping pillow.

Our most popular pillow is our compartment pillow. This construction style offers the best of both worlds. Our compartment pillow is actually a pillow within a pillow. The core of the pillow is a small feather pillow that is encapsulated in a larger compartment which is then filled with down. This pillow offers the best of both worlds in that it provides the firmness of feather and the softness of down.
Below is a video explaining the difference between Down & Feather.
Sleeping pillows unfortunately wear out; A good life for a sleeping pillow is 8 to 10 years. They also can get disgustingly dirty over time and should be cleaned.
As a pillow wears it becomes thinner and thinner.

You can increase the life of the pillow and keep it significantly cleaner by putting a pillow protector on it.

Pillow protectors are removable and washable.

Down and/or feather, over time degrade as a result of the weight of your head on it, which creates friction. Overtime the filling simply turns into dust that migrates out of the pillow shell.

Should you find your new pillow too firm or full, you can take filling out (as long as you know how to sew the cover back up).

Be careful when you open it up (do it outside) as once the cover is open – down will be everywhere – trust us on this.

Use code bedding tips at checkout and get 5% off your entire purchase.
View our 150+ bedding related articles on our "How to Tips" page here.