Have you ever attempted to put a dust ruffle on only to find that not only was it a 3-person job and it didn't look at all like the one in the store?
Either it's too short, too long, or just look sloppy. Before you give up on the idea of having one that actually fits & doesn't require a lot of work to get on the bed, read on.
Below is an older video that we did that discusses Dust Ruffle construction styles. If you prefer to read here is a written version.
Dust ruffles (also known as bed skirts or petty skirts) give your bed a tailored foundation. They can help hide a bed frame or whatever else is under your bed.
Dust ruffles are either tailored, tailored with a box pleat or softly gathered.

There are two basic types of construction that dust ruffles are made in I refer to them as

old

construction and

new

construction:
Old Construction: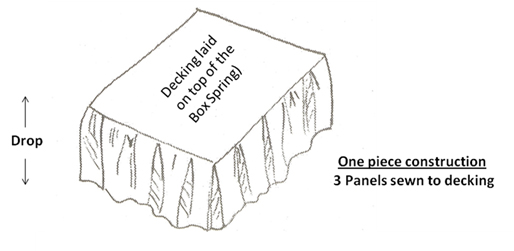 The traditional one-piece construction dust ruffles:

Has a decking (an inexpensive lining or muslin type of fabric).

The decking is sandwiched between your box spring and mattress with the decorative fabric is sewn to the decking.

The decorative fabric hangs out over your box spring to the floor.

This design generally comes in (2) lengths (the length of the dust ruffle is known as the drop) 14" or 16" drops.

Because there isn't a standard bed height these days, you run the risk of the dust ruffle being too long or too short.

The dust ruffle should just touch the floor.

You also have take the mattress off the bed to put the dust ruffle.

Should you need to launder your dust ruffle, that inexpensive decking fabric will shrink (appox. 5% or more) cause additional fit problems.

If you were lucky enough to have selected a dust ruffle that was the right length, don't expect it to fit the same after washed.
New Construction: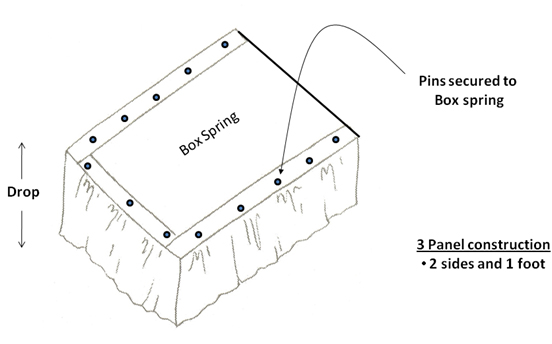 Sometimes the simplest idea works the best!
Many manufacturers have started making dust ruffles in 3 panels (2 for the sides of the bed and 1 for the foot).

These panels are then pinned into the box spring.

This allows infinite adjustment and you don't have remove the mattress to put the dust ruffle on.

Simply position the panels between the box spring and mattress and pin the fabric into place.

The pins used are usually upholstery type pins that come with the dust ruffle.

If you have a specialty mattresses (Temper-pedic, air mattresses, etc.), you can use Velcro to attach it or you may prefer the one-piece construction.

Should you have a one-piece construction ruffle that is too long, these pins are a quick fix to shorten the dust ruffle that you already have.

Simply pin the skirt up (under the mattress).
Styles:
There are many different styles of dust ruffles, here are the three most popular.

Fabric used for dust ruffles can be anything from cotton sheet weight to upholstery type fabrics.

If it is a lightweight fabric, you may want to consider insuring having it lined.

The extra weight & body of the fabrics makes the panels hang better.

Pique fabrics are nice to use for ruffles as they have a lot of body, do not require lining, and hold their shape well.

One of our favorite styles uses two layers of fabric.

The underside can be cotton or silk and the outer layer is silk organza (sheer).

When using two layers of fabric, a gathered dust ruffle works best.

This provides a very full, romantic look at the bottom of the bed.
To shop for luxury Italian bedding, click on the below shop now button.

Use code bedding tips at checkout & get 5% off your entire purchase.
View 150+ "How to Tips" bedding related articles & videos here.