To shop Italy's finest (Mercerized) luxury bedding click on the shop button.

Use the code bedding tips at checkout to get 5% off your entire purchase.
Are your bed sheets made from mercerized cotton?
Not all bed sheets are.
Mercerizing is an additional step in the overall production of garments or bed linens.

Because of this extra step and the cost associated with it, some bed linen manufacturers don't do it.
We take this extra step, as we feel the benefits of mercerizing outweigh the cost.
By using mercerized fabric, we produce a superior product that our customers recognize and appreciate.
So, what is mercerizing and what it means with regard to your bed sheets?
Cotton is a natural cellulose fiber, regardless of its quality or origin.

Natural fibers, such as cotton absorb dyes, but, they are also prone to releasing the dye molecules that detach from the fiber due to exposure to chemicals such as detergents.

Over time, detergents fade or wash away these dye molecules.

This is true for luxury linens as well as other cotton garments.

Mercerizing reduces the rate of color fade as well as providing other beneficial attributes.
In 1844, John Mercer developed the mercerizing process.
With only minor changes and modifications, mercerizing is ostensibly the same today.

The fabric is exposed to Sodium Hydroxide (SH).

This treatment improves the ability of the cotton to absorb and hold dye.

Sodium Hydroxides alter the physical properties of the cotton fiber, causing it to swell; increasing the surface area of the fibers.

The resulting swelling increases the diameter of the cotton fiber and the surface area of the individual fiber, however, it also causes the length of the fiber to shrink.

The entire piece of fabric can ultimately shrink by as much as 25%.

Because of this, mercerizing was over looked my some.
In 1890, Horace A. Lowe changed everything.
Horace learned that by putting the fabric under tension, as it passed through a SH solution (as shown below), shrinking of the textile was dramatically reduced.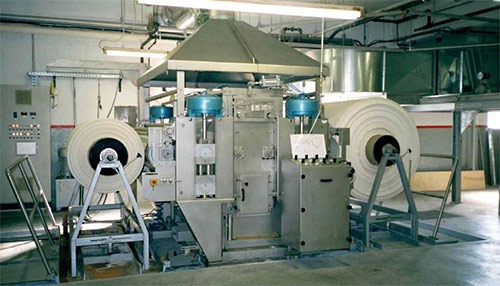 Additionally, other attributes of the cotton were also improved.
Because the weave of the mercerized fabric is tightened up during this process, the tensile strength of the fabric is increased.

Textiles that have undergone mercerizing also become smoother and shinier in appearance, both of these attributes are considered desirable in bed linen fabrics.
We hope this helps you understand the benefits and importance of mercerizing.
To shop for the finest Italian luxury bedding click on the below shop button.

Use code bedding tips at checkout & get 5% off your entire purchase.
View our 150+ bedding related articles on our "How to Tips" page here.